A Team Approach to Online Marketing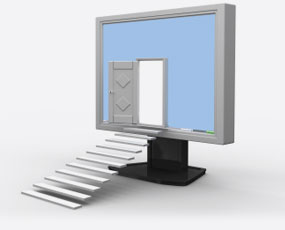 GCS has assembled a dynamic, results-oriented team of Internet marketing professionals dedicated to giving your company the edge over its competitors. Each member of our team excels in their respective areas of expertise. By working in concert, we never lose focus of our primary goal: to improve your market share.

By using a multi-pronged approach to marketing your company through the Internet, we meet the unique needs of your clients and prospects, and nurture your market relationships in order to boost brand visibility when the purchase cycle peaks. Please contact us for a free consultation and to discover what GCS can do for your business, organization or non-profit.

Below is just a sampling of the web marketing services that we offer.
Social Media Management
Facebook, Twitter, Snapchat, Instagram, Tumblr, Google+, LinkedIn -- we've managed social media for individual artists up to international corporations, and we've honed our graphic and writing skills to put the best possible face on our clients in an ever-changing marketplace that moves at the speed of thought.
Email Marketing Campaigns
Whether you are sending your message to 20 or 20 million recipients, GCS has the expertise to manage every facet of your Email Campaigns. It all starts with the discovery process and defining your needs and goals. By listening carefully and understanding your business, we can develop a strategic Email Marketing Campaign customized for your clients and prospects. Visit our Email Marketing Services page to learn more.
Web Design and Web Development
Our web design team works with clients building new websites from the ground up as well as those looking to transform an existing website that is ineffective. Graphic artists provide visual depth and help illustrate your content. Search engine optimization specialists will get your website found with the major search engines. Website programming experts package these elements with browser independent and database driven content to maximize your web presence. The web development team at GCS can meet any of your website design or website marketing needs. Visit our Web Design and Web Development pages.
Branded and Blind Surveys
A well constructed customer survey can provide one of the best returns on a small investment. The information captured from branded and blind surveys is an excellent foundation for an effective Internet marketing campaign. What is the best price point for your product? Do consumers find your website easy to navigate? So many questions can be answered with online surveys and provide you with the input to better market your product or services. Read more about Branded and Blind Surveys.
Database Management / Engineering
Putting the data that you gather off-line and online to work for you in your Internet marketing plan can dramatically improve its effectiveness. We custom design databases to match client needs for email marketing communications, channel partner, area rep and vertical segmentation, product interest and campaign ROI. Our custom engineering provides unique tools to solve your unique problems. Data management and custom engineering takes your campaigns and interaction with your clients on the web to a whole new level. Learn more about our Database Management / Engineering services.
Global Client Services is a full service Internet marketing company providing email marketing services, web design, web development, search engine optimization, database marketing, online marketing and surveys to clients anywhere in the world including: Seattle, WA - Portland, OR - Vancouver, WA - San Francisco, CA - San Jose, CA - Los Angeles, CA - San Mateo, CA - Santa Clara, CA - Sunnyvale, CA - Orange County, CA - San Diego, CA - Phoenix, AZ - Las Vegas, NV - New York, NY - Boston, MA - Miami, FL - Washington, DC - Chicago, IL - Houston, TX - Dallas, TX - Philadelphia, PA